Walking used to be part of any human being's daily life until, during the second half of the past century, it became an accepted pattern, at least in Western society, for everyone to have a car. I also have a car. I have owned one since 1964. Ownership of a car can very well be combined with a healthy walking practice. It merely requires some conscious decision making at the start, a very minor investment (which is, of course, more than compensated for by the savings resulting from reduced car use), after which walking becomes as natural and automatic as using your car. If you get over that initial hurdle of giving up something you have grown used to, you will soon see how it changes your life and gives you an entirely new perspective of yourself and the world you live in. More importantly, perhaps, and despite your spending more time while moving between places, you are likely to experience that less of that time is wasted (compared to time spent using your car or public transport) and that overall you are a much more productive and creative person, something that is borne out also by research.
Many questions were raised, implicitly or explicitly, in messages I received after I completed, on August 7, 2000, a recorded total of 40 000 km, the equivalent of the earth's equatorial circumference, of walking. It had taken me exactly seven years to do so. I completed the subsequent circumperambulation in slightly less than seven years on July 7, 2007, and reached the 100,000 km mark after exactly 1000 weeks of walking on October 7, 2012. Going even further, on October 2nd in 2015 I had completed three rounds around the world, i.e. walked a total 120,000 km. When I had reached the 150,000 km mark, and was thus at three quarters of my fourth earthly circumambulation, the idea of completing it did no longer excite me. It becomes boring to do the same thing over and over again. One of my granddaughters had the solution. Do Neptune! An inspiring suggestion indeed. It kept me going. On December 4, 2020 I had walked the cumulative total of 154,704.6 km, the equivalent of Neptune's equatorial circumference, and found myself looking for the next challenge. An exoplanet perhaps? No, not yet. I can still do Uranus. In fact, I completed the circumambulation of Uranus on June 28, 2021 and went on to complete my fourth walk around planet Earth a month later on July 29, 2021.

With Saturn and Jupiter too big to still handle within my lifetime, I've since set my eyes on exoplanets. My first choice was Gliese 3470 b, orbiting a red dwarf star called Gliese 3470 located in the constellation of Cancer, 30 parsecs away from Earth. I completed walking the equatorial circumference of Gliese 3470 b, a total of 167,726 km, on November 20, 2022.

Why do I do this? How did I accomplish what I did? How valid is the claim? Where did my steps lead me? What has it meant to me? Should anyone else do it? Has anyone else done it? I shall try to answer some of these questions below. Hopefully it will encourage others to emulate the practice and enjoy its benefits.
By the way, the photograph at the top of the page shows one of my favorite places for walking: a small protected biotope called "La Caume" in Les Alpilles in the South of France, close to where we own a four centuries old house. The area is accessible throughout the year, except - for reasons of forest fire prevention - between July 1 and the second Saturday in September.
I made the photograph below of Alberto Giacometti's "Walking Man" in 1976 in The Netherlands in another nature reserve, the "Hoge Veluwe" on the premises of the Kröller-Müller museum. This sculpture is one of my favorite works of art. It shows walking, with all its multiple connotations and dimensions, as one of the most human of human behaviors.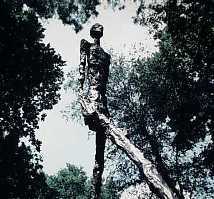 Alberto Giacometti (1901-1966): "Walking Man"
So, here's my walking story
IT'S JUST WHAT I DO
As one of the people who wrote me after I had completed my first 40 000 recorded kilometers suggested, walking is "just what I do." It's very much part of my natural behavior, just like for other people it is quite normal to cover similar distances by bike, by car, or using public transport. However, I have not always done so. As a child, I used a scooter, in addition to walking and running, as a means to explore my hometown Rotterdam (at the time still pretty much in ruins). The scooter was replaced by a bike, which expanded my horizon as far as Belgium, Luxemburg, France and Germany. Then came the car, used to travel between cities, for weekend trips to Paris in the nineteen sixties to see the latest films, as well as later for a couple of extensive intra- and intercontinental explorations (two trips to the Middle East, one along the North African coast and deep into the Sahara, and two covering multiple countries in East and Southern Africa).
Extensive walking became a habit of mine only while working in Zimbabwe in the early nineteen-nineties. It started out as jogging in the early morning hours, prompted by enhanced awareness that such was good for my health. I owe it to the general practitioner who was looking after me at the time, Dr. Jack, then more than 70 years old, that I substituted walking for jogging. Dr. Jack showed me that most joggers - and I was one of them - adopt the wrong posture while jogging, risking to harm their body rather than improve it.
So, for me, walking gradually became the thing to do. Nothing but sheer pleasure. I had been walking distances of 100 km per week for perhaps half a year when I decided, on August 9, 1993, to start recording my cumulative total. As the numbers added up, I soon discovered that it is very well possible to walk the equivalent of distances such as from Nairobi to Harare, Amsterdam to Madrid, or New York to San Francisco. I was in the middle of a bridge over the River Nile when I had walked the equivalent of the earth's diameter. In June 2000 I realized that I had almost walked the equivalent of the earth's circumference and that I could make it in exactly seven years if I would put in a couple of weeks in which I would walk 200 km rather than my regular 100 km. I had done such weekly distances before at times there was a reason to walk more than normal. This time, the only time in seven years, I did it on purpose and walked 600 km in three weeks. The rest was easy. I was not conscious at the time of the profound symbolism associated with the numbers 7 and 40, which others kindly reminded me of.
HOW YOU DO IT
First you buy a pedometer, an instrument that you wear on your belt and that counts your steps. You have to tell it what the length of your stride is and then it calculates the distance you walk. I bought my first pedometer in 1992 in Hong Kong and have been wearing these instruments permanently since August 9, 1993. They don't last forever. I have probably had about seven of them. Don't trust their accuracy too much. I calibrate them rigorously over long distances and for different walking styles, making sure that the average count is correct. I also keep checking them for accuracy. This is important because your walking stytle and stride may change over time. As I grew older over the past more than two decades since I started counting, my stride gradually diminished from 92 cm to 87 cm.
I think the phrase "meten is weten" (to measure is to know) was made popular by the Dutch physicist Minnaert, great popularizer not only of science, but particularly of the attitudes and skills of being scientifically engaged and appreciative of the wonders of nature. Had I not had my pedometer, I would never have been so daily aware of how far I had walked. Looking at the digital display of my pedometer has become second nature, just like looking at the dashboard instruments is an automatism when you drive a car.
HOW OTHER PEOPLE DO IT
I'm not aware of other people wearing pedometers perpetually. My doing so - and particularly my fascination with the cumulative count, which I record on a weekly basis - has definitely contributed to a change of my behavior. Typically, for instance, while working at UNESCO headquarters in Paris during the late nineteen-nineties, I would avoid using the elevator but instead climb the stairs. Rather than trying to reach a colleague by phone, I would walk the corridors to see the person in his or her office. For any errand in town, I would walk rather than take the metro. When on mission to foreign countries, I would choose a hotel at a convenient walking distance - four to five kilometers - away from where I had to work. Such a choice could add interest and excitement to a trip such as when, in Jerusalem, my hotel was in the East and my work in the West. Walking provided an integrated perspective of two opposed worlds.
There may not be many people walking the slightly more than 100 km a week necessary to go around the world in seven years. But I know of at least one case of someone who made a comparable decision in 1950 and stuck to it. Abraham Pais, in his autobiography "A Tale of Two Continents: A Physicist's Life in a Turbulent World," describes how, when he worked in Princeton, NJ, he used to walk from where he lived to where he worked, "in all about a 45-minute walk. That way of starting the day agreed so well with me that up to the present [the book came out in 1997, JV] I have kept up the daily routine of a morning walk first. I have estimated that in this way I have covered a distance twice around the equator." OK, it took him five times as long to walk twice the distance I covered in seven years, but it's really not the magic figure of 100 km a week that is important, but rather the consistency of behavior and how it fits in with the rhythm of your life.
THE PLACES I HAVE SEEN
Since I learned to walk again, I have rediscovered how much of what we see, and how intensely we perceive it, depends on how we move. Driving cars, as everyone knows, is an environmental hazard. But more than that, it also deprives one of the thrill of being bodily immersed in the environment. Only when you walk can you stop without difficulty, attend to every insect, every leave of grass, every flower, every stone. At night you can marvel at the stars and thanks to the power of peripheral vision still not bump into other people or be run over.
While you walk you can even read. I've found out that reading while walking can become an intense pleasure. Obviously, it requires getting accustomed to it and developing the skill to be alert at what happens around you while you walk and read. There has been serious research that shows correlation between creativity and rhythmic bodily activity, such as engaged in by athletes. There is also the practice of ancient Greece of the teaching/learning dialogue in the walkways of the gymnasium. I can testify to the fact that my best thoughts normally come to me while I walk. Not unfrequently would they be a walking reflection on what I read or on what is being conversed about when walking together with other persons. So much has this become part of my life experience that I often deliberately go for a walk when I want to think deeply.
I have had the privilege to walk in an incredible number of places, spread over all continents except Antarctica. You can probably get no better, no more intense, impression of a place than by finding your way around while walking. I retain a strong visual memory of all the places where I have been. When I visit them again years later, I can usually find my way again immediately.
Having walked the equivalent of more than four times the circumference of the earth, I now know - I know it with my body - how small this planet is and how fragile its biosphere. I have seen the beauty of its nature and its people. I have stood in awe of its fantastic diversity of cultures. It was no great accomplishment, but one that I tremendously enjoyed and am grateful for.